Why Cannabis Drinks Are All the Hype Right Now
If you've browsed the internet or walked into a dispensary recently, you've probably noticed that cannabis-infused drinks have been all the hype. Turns out, cannabis-infused drinks make up one of the fastest-growing segments of the cannabis market, and it's really no surprise.
According to The San Francisco Chronicle article, "Will Infused Drinks Change How We Consume Cannabis?", we can only expect this trend to grow. '"I believe infused drinks are the future of cannabis consumption," said Jamie Evans of San Francisco, who promotes food and beverage events under The Herb Somm. "Our society already loves and understands drinks, making infused beverages the best solution for social consumption. Lighting up a joint in public is still frowned upon, so people would rather sip than smoke their cannabis in public."'
But beyond it being easier to sip on cannabis than smoke a joint, there are many other reasons that people are loving cannabevs. Here are some of those reasons. 
No Equipment Necessary = They're Easy
Unlike smoking and vaping, you don't need any extra accessories or equipment for a cannabis beverage. Because convenience is everything in today's world, having to roll a blunt just to get your cannabis fix, is so not ideal. Nor do you want to have to pay for a vape pen or glass piece when you're new to cannabis or not sure that you'll use it enough. By not having any extra equipment, it's also much more discrete and won't stand out like smoking flower would.
Sipping on a Beverage is Normal = They're Discrete
Society —literally worldwide—loves beverages of all sorts. They're a completely normal part of our daily routines, from sipping on a warm cup of joe by morning to an iced cocktail by evening. Hence, it makes total sense that a cannabis drink would fit right into our usual routines of sipping on beverages. Whether you want to drink it straight, add some to a smoothie or pre-workout, or add "a shot" of Elixir to a mocktail, it's discrete, and sipping on your infused beverage won't cause anyone around you to think twice.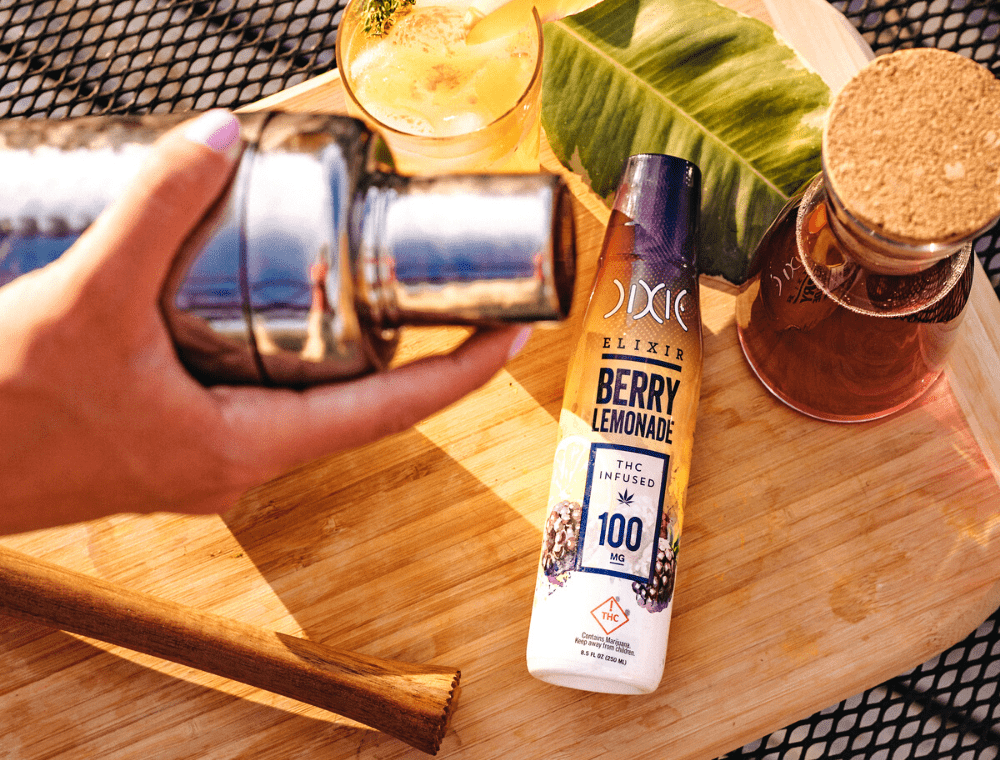 Step Aside Booze = They're Trending
As cannabis legalization spreads across the country, more and more people openly talk about how they sometimes prefer to substitute an alcoholic drink for cannabis. According to a New Frontier Data report, 73% or of cannabis users who were surveyed view cannabis as safer than alcohol, and 65% prefer to consume cannabis over alcohol. Why? It's an enjoyable and euphoric buzz, sans the hangover, and doesn't leave you wondering what you did last night. What's not to love about that?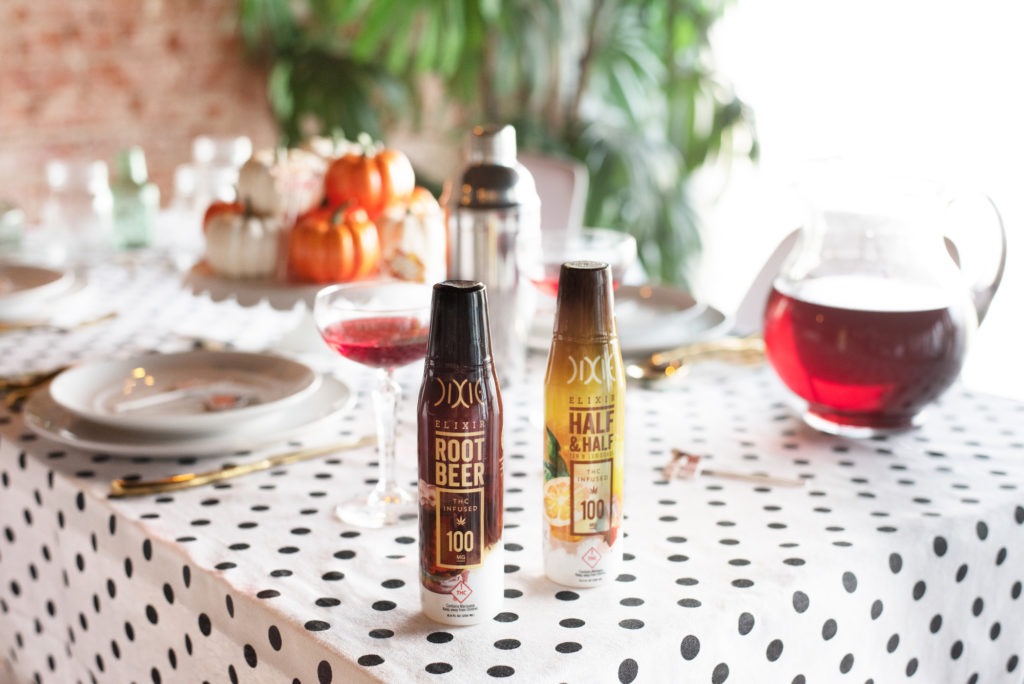 While lighting a joint will get you the effects from cannabis, it's not exactly a model substitute. For many, drinking a beer or cocktail is not just about the effects of the alcohol…it's about the entire experience. There's something special and ritualistic about mixing a cocktail to sip on as we listen to the crackle of a fire, lay by the pool, or enjoy dinner with our lover. With cannabis drinks, you still get that experience of the sipping as you savor the flavor and soak in your surroundings.
'Tis the Season = They're Sharable & Sociable
Especially around the holidays, we are reminded of how important it is to be with friends and loved ones. In our opinion, one of the best things about cannabis drinks is you can share that experience with others (well, in legal recreational markets, that is), just as you share that experience of drinking in a social or party setting, whether it be small and intimate, or big and social.

That's one of the reasons we made the Dixie Elixir, the "original" party-sized, multi-serve cannabis beverage. We wanted to preserve the meaningful moments that come from a shared experience in social gatherings.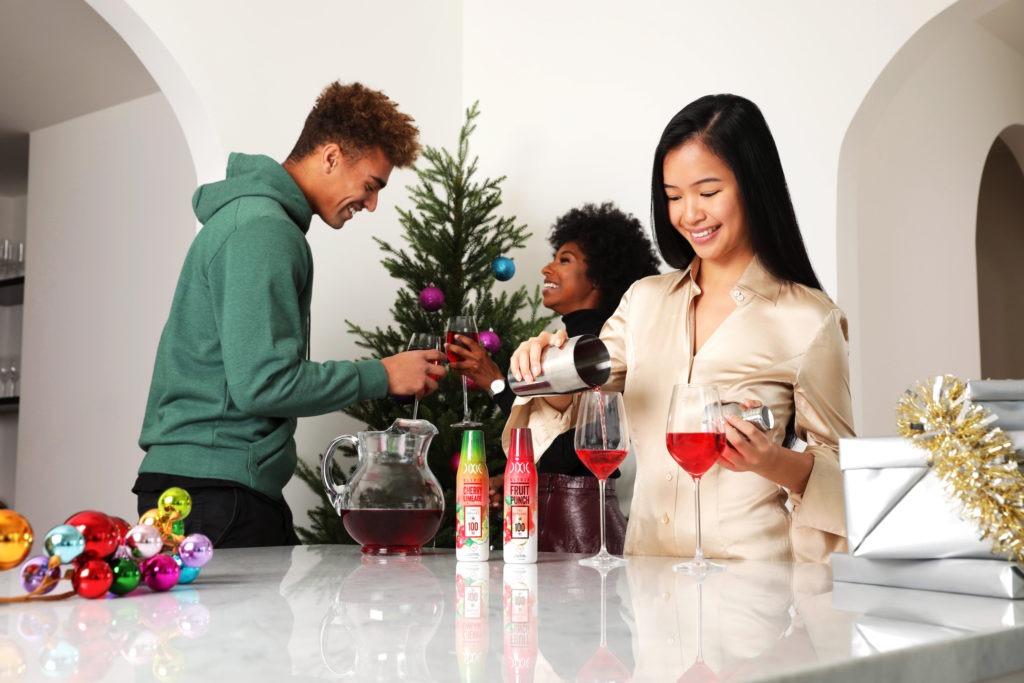 But it's not just during Thanksgiving and Christmas that cannabis beverages are a hit. Turns out, not only are they great for holiday parties, and as gifts, they're also an awesome way to ring in the New Year! According to "The Holiday High: A Look at Seasonal Trends in Cannabis," a Headset report, people do increase their cannabev purchases during Thanksgiving and Christmas…but it's on a whole other level for New Year's, with a nearly 80% increase in cannabis beverage consumption. Bring on the celebration!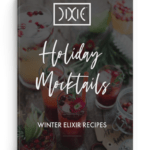 Holiday Recipes!
Which reminds us…with the holiday season right around the corner, it's the perfect time to bring out the Elixirs to share at Friendsgiving, intimate dinner, or holiday party. Here are some special edition Elixir holiday mocktail recipes, for any festive occasion…even if that's a cozy "me night" on the couch.
Lower Activation Time = They're Faster
Edibles are notorious for requiring some patience before you will feel the effects. However, the effects are often longer-lasting, too. When it comes to cannabis drinks, you get the best of both worlds. For many, the activation time tends to be a little faster than traditional edibles, meanwhile the effects still last longer than smoking or vaping.
So when do you start to feel the effects? 

Similar to edibles, there's no exact answer because it's subjective and every individual is different. It depends on things like your metabolism, what you've eaten that day, your tolerance, and more. That said, our Elixirs, typically are felt in about 30 minutes, as opposed to 60 minutes (for your traditional edible).

This is because with beverages, we do absorb some of the THC through the lining in our mouth, which we feel a lot faster. Even the mere seconds you savor the flavor of an Elixir in your mouth will give you some oral-mucosal absorption.
Precise Dosing = They're Personalized to Your Needs
Whether you're new to cannabis, or well-seasoned, precise dosing is definitely an awesome benefit of cannabis drinks. Not only is it precise, but you can tailor your dose to meet your own, individual needs.
When you're smoking or vaping, you don't really know how much THC you're actually getting. With a cannabis beverage, the package will tell you how many milligrams of THC are in a serving and what that serving amount is.
Elixirs are practically made for precise dosing. They come with a measuring dosage cap that's marked to 6mg. If you're new to cannabis, or want a microdose, then you can fill it just halfway to the serving line. This way you know exactly how much THC you're getting for a more predictable experience.
They're Yummy…Enough Said
Masking the flavor of cannabis oil can be a difficult task, and for many, it happens to be a flavor they'd prefer to be masked. In our opinion, and in the opinion of many others, this is another plus for cannabis drinks — they're delicious! Which is also why we are proud that among all the cannabis drinks popping up out there, our Dixie Elixirs remain award-winning beverages, since we first started making them nearly a decade ago.