An Elixir's Travel Blog – The Road to Re-Launch
Dixie's delicious Elixir here. If you hadn't already noticed, I took some time off. The past five years in Colorado were great, but I was exhausted! Four years in the medical market and just over one in the recreational market had really taken its toll on me.
I had some great times over the years, but, every once in a while people got a little too much of me and things got a bit weird… (Everything in moderation right!)
I spent 5 years in a rewarding job. It was great making sure people were pain free, having fun, and enjoying themselves. And along the way I got to meet some great people from all over the world and show them all of what Colorado has to offer. We went skiing, hiking, biking, we did First Fridays, and concerts at Red Rocks.
Of course, there was that ill-fated relationship with a pre-roll. I thought she was top shelf, but come to find out she was mostly machine shake. I was literally sick about it. And there was that party in Vegas, but technically, I wasn't supposed to be there, so, can't share much about that.
After a wild ride Johnny Law finally caught up with me.  New laws meant it was time for me to fundamentally change, I needed a break anyways,  I hadn't taken a vacation for five years. The time had come for me to collect my thoughts, travel the world and really find my inner Elixir. So off I went…
My travels took me all over the globe, but four destinations in particular had a lasting effect. I can now confidently say I will be returning to work all natural, with new flavors, a new child-resistant bottle, and 90 MGs of THC. Get ready world, a new and improved Elixir is here to stay!
---
Island Style, Going Natural in Mexico
The first stop on my journey of enlightenment was Cozumel Mexico. I finally slowed down, and learned to appreciate the beach lifestyle. I decided to go on all natural diet, and haven't gone back since.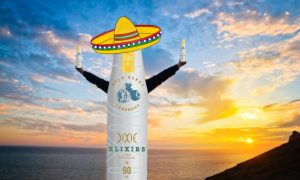 ---
Flavor-searching in Morocco
Next, it was time to focus on my mind. I embarked on a journey to inner peace in Morocco. The Northern bazaars inspired me, this is where I came across brilliant foods exploding with delicious flavors.
---
Tales of a New Top: Becoming Safer in Berlin
Next stop, Berlin. The engineering capital of the world to improve my wardrobe function. After extensive R&D, I teamed up with Tricor & Braun to create the world's first carbonation holding, child resistant dosing cap.
---
Beefing up: 90 MGs of THC in Athens
Last but not least, Athens! My trip to Greece was more motivating than I could have imagined ! But, what I found most astonishing was my visit to the original Olympic stadium! Then and there I decided I would train to be 90 MGs of THC. An ambitious fitness goal for an Elixir, I know, but I crushed it!
---
The truth is, after two months of working on myself…everything from new, natural ingredients to new clothes… I have to tell you that I am psyched to get back out there. I know there are some thirsty people (all over the age of 21 of course) just looking for a Peach Iced Tea or a Wild Berry Lemonade to satiate their many thirsts—for knowledge, for adventure, for peace and relaxation, or perhaps they are just plain thirsty. Whatever the need, I am back and ready to serve my adoring public. Let's grab that bull by the horns, together, and make this an amazing summer to remember.
P.S.  Watch out for Dixie coming to your state, soon!