CannabisxCreativity: Edibles & a Museum
CannabisxCreativity, "Yes, it took me just a moment to draw this line with the brush. But it took me months, perhaps even years, of reflection to form the idea." -Miró
Joan Miró was a Catalonian painter born in Barcelona in 1893. Considered a defining force in modernism, his revolutionary works have made him as respected as Goya and as popular as Picasso. A jewel in the crown of Spanish art, he helped to define fauvist, realist and surrealist artistic styles throughout his lifetime as an artist.
"The solitary life at Cirrana, the primitivism of these admirable people, my intensive work, and especially, my spiritual retreat and the chance to live in a world created by my spirit and m house, removed, like Dante, from all reality… I have withdrawn inside myself, and the more skeptical I have become about the thing around me the closer I have become to God, the trees, the mountains, and to friendship. A primitive like the people of Ciurana and a lover like Dante." – Miro 1917
The exhibit at Denver Art Museum, on display through June 28, pays homage to his legacy with group of works that capture his career's twists and turns concisely but very effectively.
The exhibit was thorough, encompassing the evolution of his techniques and mindset as paralleled by his career. Yet, the most insightful aspect was that each stylistic evolution was perfectly paired with a quote that helped the viewer to understand the mentality behind the evolutions in his works.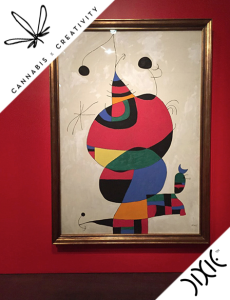 "A form gives me an idea, this idea evokes another form, and everything culminates in figures, animals, and things I had no way of foreseeing in advance."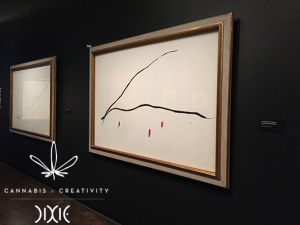 "Yes, it took me just a moment to draw this line with the brush. But it took me months, perhaps even years, of reflection to form the idea."
"In a painting, you should be able to discover new things each time you look at it. For me, a painting must give off sparks. It must dazzle like the beauty of a woman or a poem."
15 Quotes from Miró via Denver Art Museum
http://denverartmuseum.org/article/15-quotes-joan-miro