Athletes: Recover Faster with Dixie's Synergy
Whether you're hitting the slopes for the weekend or simply taking a jog after work, incorporating cannabis into your exercise routine can help to expedite recovery, reduce inflammation and promote overall relaxation, naturally.
Learn the Facts:
Incorporating Cannabis into your Active Lifestyle
People who live active lifestyles are generally the type of folks who treat their bodies as their temples. They are particular, sometimes even strict, about the purity of what they eat and drink. Feeling good and performing well are top priorities. But, when it comes to recovering from a hard workout or race, they can become far less picky.
They don't hesitate to layer their skin with over-the-counter (OTC) pain creams and muscle rubs. If they're really hurting, they'll eat a few ibuprofen for good measure. If their gut is acting up, they are fine to swallow some pink stuff or a couple of tiny tablets. Any remedy that works fast and takes away discomfort is good enough.
However, these folks probably wouldn't consume these drugs so readily if they knew a couple of factoids like:
"The active ingredient in Pepto can leave behind a shiny metal oxide slag behind after being completely burnt with a blow torch
Laboratory studies have shown that taking NSAIDs (ibuprofen) after exercise slows the healing of muscles, tissues, ligaments and bones, and cancels out benefits of physiological adaptations.
We all hear a good bit these days about medical and recreational marijuana product and how they can benefit physical recovery. But, how exactly do they work in your body? Is it worth the perceived risks to try it? Read on and decide for yourself!
How OTC Remedies Work
The chemical formulas in common OTC remedies are designed to work around, and sometimes against, the body's natural processes by temporarily "rewiring" response mechanisms and healing processes. For example:
Muscle rub – Ointments and creams such as Icy Hot and Tiger Balm are counter-irritants. Instead of relieving pain at its source, they create an irritation at the sensory nerve endings to offset pain in underlying muscle or joints served by the same nerves.
Ibuprofen – Pain relievers such as Advil and Aleve are NSAIDs (Non-Steroidal Anti-Inflammatory) which bring relief by blocking specific enzymes from reacting with an acid that cause pain.
Pepto, Kaopectate, Imodium – Salicylate, the active ingredient in Pepto and Kaopectate, slows the flow of liquids into the gut by coating the tissues. Anti-diarrheals contain loperamide, an opioid that decreases activity in the major nerve supply to the gastrointestinal tract.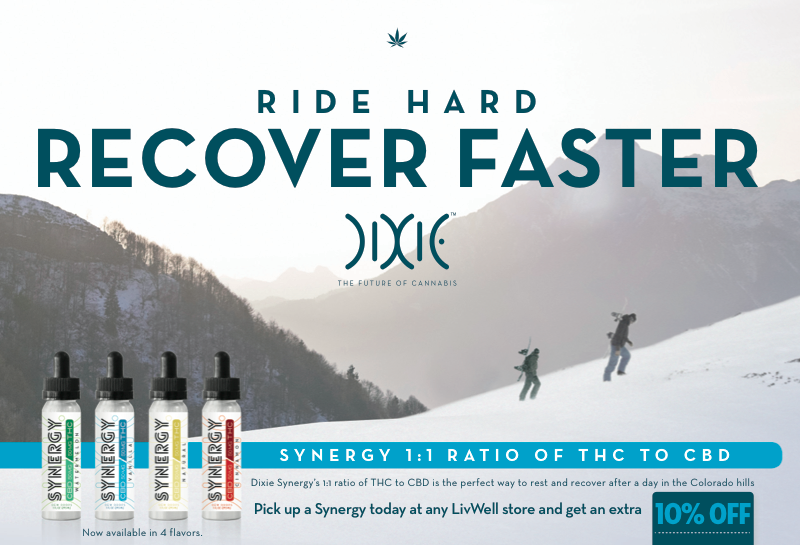 How Cannabis Remedies Work
All that interference with processes and nerves isn't necessary. Humans naturally have a system in their bodies called the endocannabinoid system which is part of the central nervous system. It produces chemicals called cannabinoids that are similar to the active ingredients in cannabis.
The endocannabinoid system hinges on two types of receptor throughout the body; CB1 and CB2.  CB1 receptors affect pain management while CB2 receptors create anti-inflammatory responses. CB1 reacts in the brain, CB2 receptors are found predominantly in the immune system.
(Dixie Elixirs has a great resource article on this site titled, "Delivery Systems – How your body gets THC where you want it to be.")
Cannabis topicals treat typical athletic aches and pains by leveraging the physiology behind the endocannabinoid system.
Muscle soreness and joint pain – Cannabis lotions, balms and oils plug into CB2 receptors in the skin, soaking through to muscles and joints, reducing inflammation and pain directly where it occurs.
GI Issues – Interacts with CB1 receptors present in the digestive tract to calm peristaltic spasms, regulate motility and relieve pain.
Skin irritation – Cannabis has natural anti-bacterial, anti-fungal and anti-inflammatory properties. Reduces pain, swelling and possible infection from chafing and mild "road rash." Can also speed healing and provide pain relief from sunburn.
Advantages of Cannabis Remedies
The primary reason for cannabis' superiority over OTCs for an athlete is very simple: Cannabinoids act like substances already in our bodies to fight inflammation and pain. As far back as the 1990s, researchers in Israel stated, "… there is a system in our body that produces cannabinoids, and is specifically designed to accept just them, (which) should be overwhelming proof of the potential for cannabis' efficacy as a medicine." That potential has since been borne out time and time again.
As for perceived risks of using a marijuana product, athletes should know and understand that cannabis-infused topicals are not psychoactive and do not produce a high. They don't they enter your bloodstream therefore wouldn't be present in a drug test.
Specific cannabis remedies have these significant advantages over OTCs:
No damage from long-term use
No dangerous chemicals
No physical side effects such as overheating, dehydration, nausea
Product Recommendations According to Ailment
Natural relief is the obvious choice for people living a healthy, natural lifestyle. Unfortunately, the stigma surrounding cannabis prevents the majority of athletes and active people from even considering recovery treatments that incorporate cannabis.
Cannabis and hemp-based remedies provide safe, non-psychoactive alternatives to the chemical compounds in OTC drugs. Luckily, Dixie Elixirs has the perfect hemp-based and cannabis-infused recovery products.
Muscle Pain and Inflammation
GI Distress
Skin Irritation
Read more from Stacy Sawyer on JustRightRaces.com
And don't forget to follow Stacy on Twitter