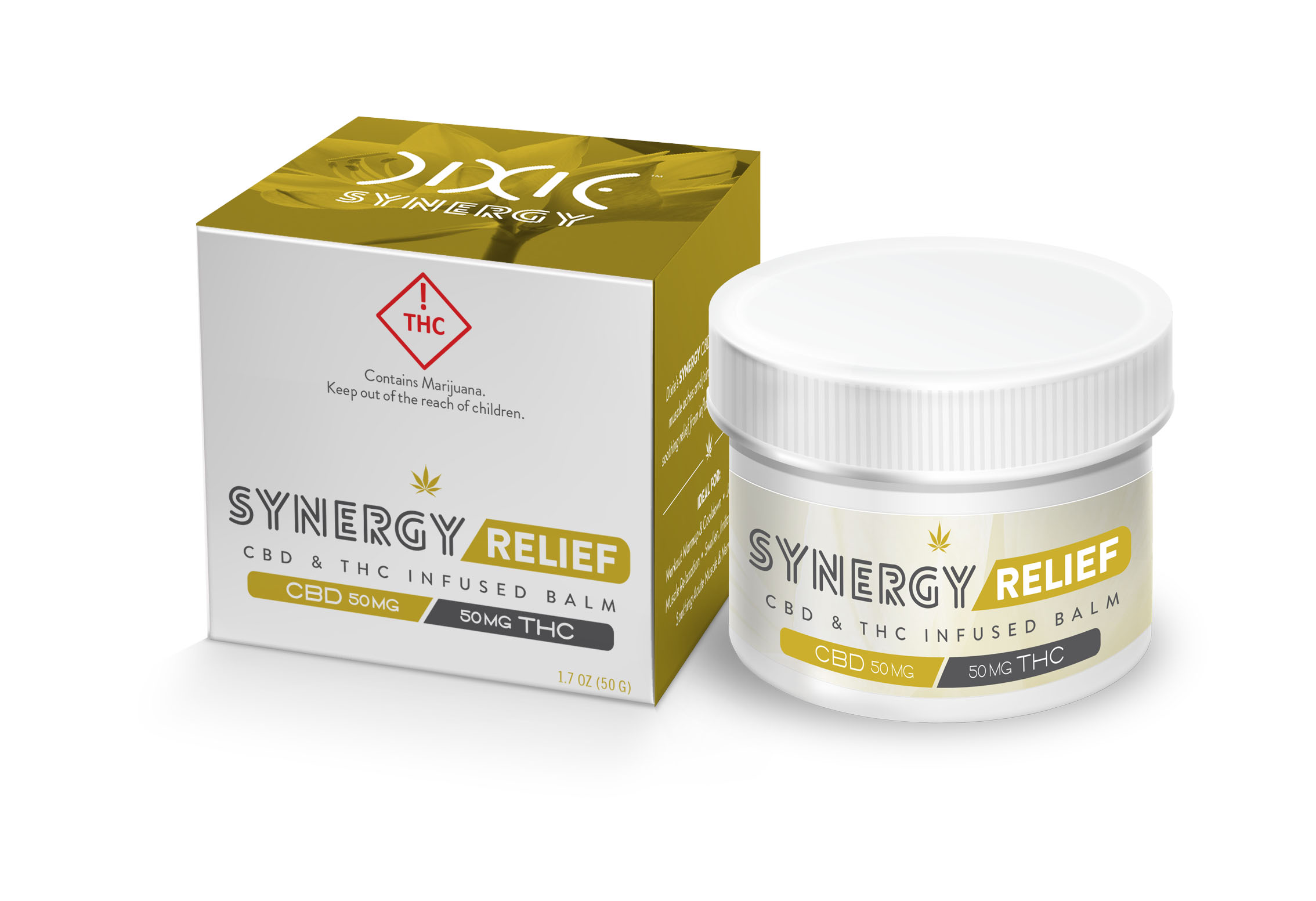 SYNERGY Relief: CBD & THC Balm
Two is better than one, and that's just what you get with Dixie SYNERGY. We've infused this relief balm with THC and CBD (the cannabinoid most commonly associated with the health benefits of marijuana) in a 1:1 ratio. And the harmonious effect of both is greater than the sum of individual cannabinoids. SYNERGY Relief Balm has powerful anti-inflammatory properties that are great for treating chronic pain. And it's absorbed through the skin, so it doesn't produce the psychoactive effects typically associated with THC.

SYNERGY products are formulated with both THC and CBD in a 1:1 ratio
SYNERGY RELIEF Balm effectively treats localized pain and inflammation and can assist with neuropathic conditions
As a topical product, SYNERGY RELIEF Balm does not deliver a psychoactive effect
Dixie Synergy products are triple lab tested for consistency and quality
INGREDIENTS: Infused Olive Fruit Oil (Olea Europaea Fruit Oil, Isopropyl Alcohol, Lobelia Inflata Seed Extract), Cera Alba (Beeswax), Ricinus Communis (Castor) Seed Oil, Theobroma Cacao (Cocoa) Seed Butter, Rosmarinus Officinalis (Rosemary) Oil, THC Oil, CBD Oil, Lavandula Officinalis (Lavender) Flower Oil, Cedrus Deodara (Cedarwood) Oil, Pinus Sylvestris (Pine) Needle Oil.

The intoxicating effects of this product may be delayed by two or more hours.
Delivery System: When consuming this product, your body will absorb THC through your tongue and the lining of your mouth, but the effects of THC will be felt throughout your entire body. This is just one of four ways your body can absorb THC.
Sign up to get deals and access to all things Dixie