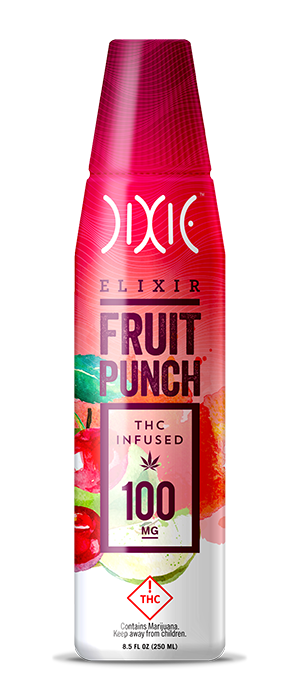 Fruit Punch
Orange, cherry, and a hint of pineapple create a punch loaded with flavor and the power punch of high grade THC. Sweet and Tangy. Fruity and juicy. Dixie's Fruit Punch is a tantalizing tongue twister indeed.
*Also available in 200 MG per bottle and 12 MG per serving in select markets
Elixirs come with a child-resistant dosing cap featuring a line at 15 ml allowing patient
s to find their perfect dose.
Elixirs are made with pure cane sugar and have no artificial coloring or flavors.
Homogenization technology increases bio-availability and reduces uptake time.
INGREDIENTS: Water, Pure Cane Sugar, Natural Flavors, Natural Red Color, Citric Acid, Gum Arabic, Guar Gum, Citrus Extract, THC Oil, Potassium Sorbate [preservative], Quillaja Extract [emulsifier].
*Packaging may vary from state to state due to local regulations

The intoxicating effects of this product may be delayed by two or more hours.
Delivery System: When consuming this product, your body will absorb THC through your tongue and the lining of your mouth, but the effects of THC will be felt throughout your entire body. This is just one of four ways your body can absorb THC.
Sign up to get deals and access to all things Dixie