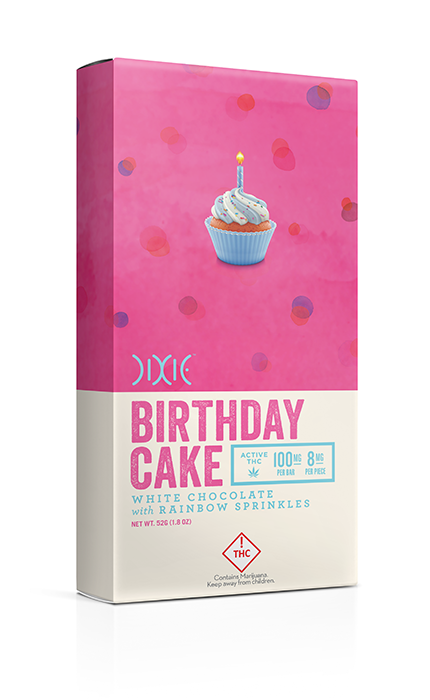 Birthday Cake
Who thought classic vanilla cake with rainbow sprinkles could get any better? Throw in the delightful effects of a little THC and we have really upped the ante on a nostalgic classic.  Rainbow sprinkles, frosting flavors and creamy white chocolate come together with the perfect amount of THC. This bar is worth waiting a year for…or at least until you can get to your nearest dispensary.
*Also available in 200 MG per bar and 16 MG per serving in select markets*
Dixie Edibles are triple lab tested for consistency and quality
When you consume a Dixie edible, the THC is processed in your liver—transforming from a Δ-9 is to a more potent 11-hydroxy
Edibles can take longer to take effect than other methods of THC uptake, but the effects often last much longer too
INGREDIENTS: White Chocolate (Sugar, Cocoa Butter, Powdered Milk, Soy Lecithin [Emulsifier], Vanilla Extract), Non Pareils (Sugar, Dextrin, Starch, Titanium Dioxide, Confectioner's Glaze, Carnauba Wax, FD&C Red #40, FD&C Red #3, FD&C Yellow #5, FD&C Blue #1, FD&C Yellow #6), Natural Cake Flavor, THC Oil.

The intoxicating effects of this product may be delayed by two or more hours.
Delivery System: When consuming this product, your body will absorb THC through your tongue and the lining of your mouth, but the effects of THC will be felt throughout your entire body. This is just one of four ways your body can absorb THC.
Sign up to get deals and access to all things Dixie