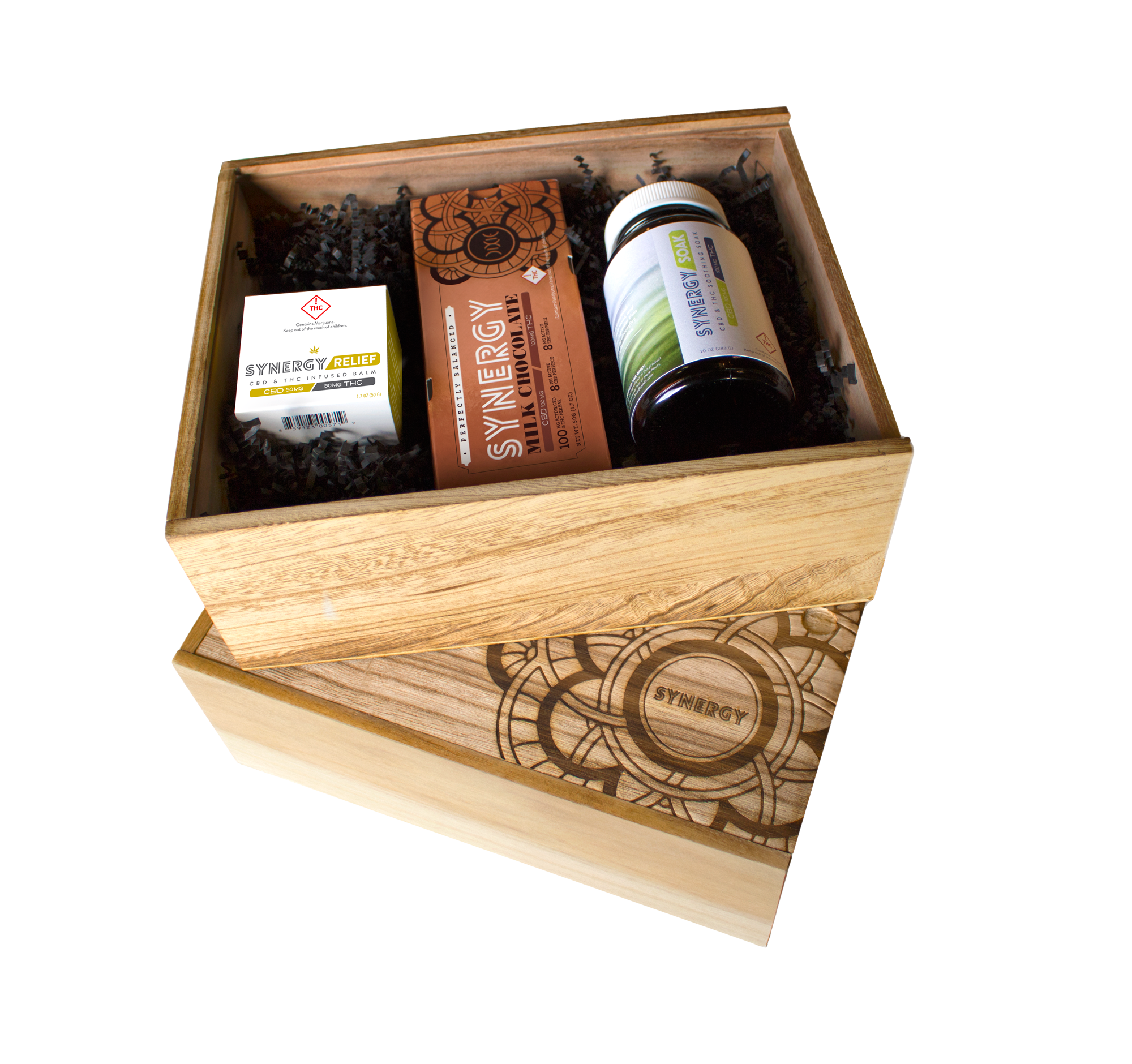 SYNERGY Holiday Box
This year, Dixie is helping stumped shoppers with a bundled edible & topical holiday gift box, stocked with three of our most popular products at one great price. Each handcrafted wooden box includes both a SYNERGY Relief Balm and a SYNERGY Milk Chocolate bar, leaving customers to personalize their third item. Choose a SYNERGY Soak when looking to give the gift of soothing relief… or SYNERGY Gummies to deliver balanced CBD:THC nirvana.  This keepsake makes a perfect holiday gift for the experienced cannabis consumer as well as those who may be new to the many healing benefits of CBD:THC topicals and edibles.
Each SYNERGY Holiday Box contains:
SYNERGY RELIEF BALM
Our SYNERGY Relief Balm contains an equal ratio of CBD and THC along with a blend of essential oils, including rosemary, lavender, and cedarwood to provide additional healing and aromatherapy benefits.
SYNERGY MILK CHOCOLATE
Our premium, sustainably-sourced milk chocolate is now perfectly balanced with equal parts CBD and THC. The anti-anxiety and anti-inflammation benefits of CBD combined with THC's natural stress-relieving properties make for a more effective experience than THC alone.
And your choice of either:
SYNERGY SOAK
The latest addition to our topicals, SYNERGY Soak, combines the benefits of THC & CBD—with essentials like rosemary, cedarwood, and lavender, to alleviate muscle soreness and tension in your joints. Use in the bath or soak hands and feet for fast, effective localized treatment.
Or…
SYNERGY WATERMELON GUMMIES
Each delicious gummy contains 5MG of THC and 5MG of CBD for an entourage effect that leaves you with a very balanced and manageable high while also providing great pain relief.

The intoxicating effects of this product may be delayed by two or more hours.
Delivery System: When consuming this product, your body will absorb THC through your tongue and the lining of your mouth, but the effects of THC will be felt throughout your entire body. This is just one of four ways your body can absorb THC.
Sign up to get deals and access to all things Dixie